This page or section is under construction.
This article is under construction. You can help the Fan Creations Wiki by expanding it under the permission of User:Dragonleaf5678's choice. Reason: incomplete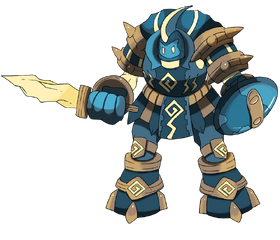 Top 10

Pokémon

that need


Mega

Evolutions




This list details Pokémon that need Mega Evolutions.
For clarity, here's a list of the ingame tiers in order of lowest to highest (so PU is the worst, AG is the best):

PU • NU • RU • UU • OU • Uber • AG (though it only has a single Pokémon in it)
Stat bar order:
Red - under 60
Yellow - 60 - 99
Green - 100 - 159
Blue - 160+
And yes, for those asking, I know Mega Evolutions in canon cannot change HP. However, certain Pokémon on this list are crippled solely because of a low HP stat, and I've gotta give them the justice they so rightly deserve. This is fanon, anyway, and should not be considered canon under any circumstance.
Number 10
Click '[Expand]' for the number 10 pick.
I do not own any of these Pokémon. They all belong to Game Freak of Nintendo.
The weather summoners
Politoed
Anecdote time!
Rain had an absolutely radical effect on OU back in the day, and the ability Drizzle—which freely spawned rain for the rest of the battle—had for so long been overdue to come to the tier. Rain, after all, saved so many Pokémon from obscurity—just look at Thundurus; without Rain, his Hurricane and Thunder attacks were simply diminished, and without that free accuracy boost he certainly would have dropped in the tiers, or Ferrothorn and Skarmory, classic Steel-types that would be nowhere near as recognised as they are now if it weren't for the one simple weather effect, which would stop Fire-types in their tracks.
And who would be the keeper of this Drizzle? None other than our forgotten froggy friend whose stardom solely resided in the fine ability.
Politoed is a perfect testament to how broken rain once was. Back in BW, when rain was at its height, Politoed had the interesting plight of being the premier staple for any rain team and, with that, Politoed, a Pokémon that seemed entirely alien to the tier with average stats and a Magikarp-standard of a movepool, somehow wound up being the most used Pokémon in the most played tier. Politoed inexplicably became more ubiquitous than Pikachu and, for that matter, rain in the United Kingdom.
But Polly's fame, by the next generation, became a faint memory. Game Freak themselves seemed to have had enough of the poor guy—and, within a simple mechanical change, Drizzle could only summon rain for five turns, or eight with a Damp Rock. This completely Rotom-Wash'ed away defensive rain teams, and bounded Politoed to a Damp Rock, severely limiting his offensive and defensive potencies. Because of its poor bulk, it was so easy to kill Politoed and, without a Pokémon with Drizzle, you're forced to use Rain Dance—and guess what? If you want to prolong that, you'll need yet another Damp Rock. Looks like Game Freak might not know how to buff a Pokémon *cough* *cough* Garchomp *cough*, but they certainly know how to nerf one.
... I mean, unless I worked at Game Freak, of course.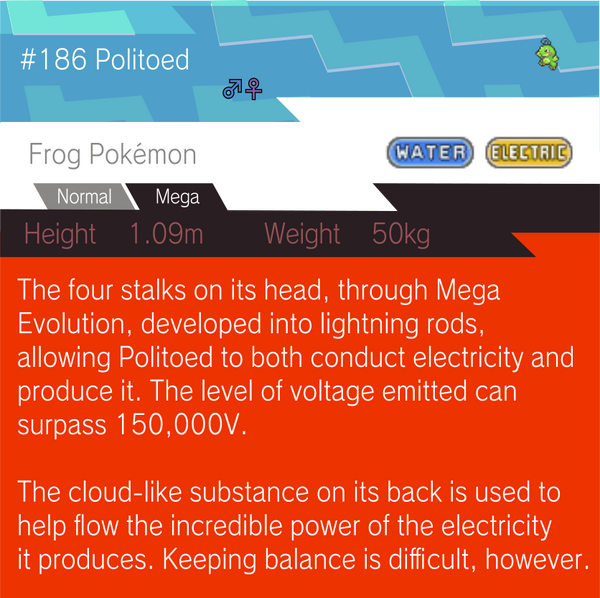 Stat
Value
Difference
HP
Before

90

0
After

90

Attack
Before

75

-60
After

15

Defense
Before

75

75
After

150

Special Attack
Before

90

70
After

160

Special Defense
Before

100

20
After

120

Speed
Before

70

-10
After

60

Total

600

Note: All percentages from this table are calculated from 255, Blissey's HP stat, the highest stat in-game so far, and the total is calculated from Mega Rayquaza and the two Mega Mewtwos, both of which have a base stat total of 780.
Ability: Swift Swim
Movepool Additions: Thunder, Hurricane
Ah, the classic Rain nuke set. You guys remember the Specs offensive Politoed set back in BW? Well, just imagine that, but with a couple of Hydreigon to ice the cake. That's right, your eyes don't deceive, this thing has 160 Special Attack. And with Swift Swim. And Rain. And Thunder. And Hurricane.
... like trying to intercept a Hydrogen bomb with your face.

The JWittz
So the niche? Well, Polly here has everything—godly 90/150/125 bulk, 160 Special Attack, and a Speed tier that, at a first glance, is disgusting, but with Swift Swim is blistering. Speaking of this Speed tier, 60, maxed out hits 240 (at Level 100, Timid Nature, 252 EVs). 240 × 2 = 480. We can do the math. That immediately makes Politoed faster than any viable Scarf user in the metagame (bar, like, Pheromosa), with a 1.5x Rain boost to all of its Water-type moves AS WELL as the 120 Base Power Hurricane and Thunder, which don't miss under the weather condition. Like, pronto, it can rip most offensive and balanced teams to microscopic dots the size of a baby Joltik. And you know what? Stall hates its 30% chance of a Confusion on Hurricane and Paralysis on Thunder, too. Dang, this thing's Uber-potent, you know. Not to mention its fantastic offensive and defensive typing, giving it only two single weaknesses that it can generally handle with ease: Grass and Ground.
... but, of course, no Pokémon's a Pokémon without its weaknesses (except Number 1 and Chansey. Seriously, that thing NEVER DIES), because its initially poultry Speed is horrible, and incredibly dependent on Rain, which lasts for a limited amount of turns now there's no Damp Rock availability with Drizzle, and it means any other weather-summoning Pokémon exploit its ass. It might just force it to forfeit a clean, pallatable Ice Beam for a rather unattractive Rain Dance, in fact. This over-reliance could, perhaps, limit it to only Rain playstyles, as common bulky offense teams by general consensus lack Rain support. I mean, unless you want to just ditch the whole Swift Swim gig altogether? And, surely, that'd be rather wasteful of an ability slot, would it not? Running bulkier variants of it is painfully seductive at face value, but its lack of reliable recovery added to its two-faced ability alongside an inability to use Leftovers means it has the horrific longevity that let down Pokémon like Mega Camerupt and could, all in all, hurt its overall viability. But with stats like that and an ability like a toy to the giant under adequate team support, it is a Rain sweeper only a madman would overlook, and for such a role, it is the cream of the crop.


---

So, EV-wise, there are a number of things Polly could pull off effectively;
Pacy offense
Politoed @ Politoenite
Ability: Drizzle
EVs: 80 HP / 252 SpA / 176 Spe
Timid Nature
IVs: 0 Atk
- Hydro Pump
- Thunder
- Hurricane
- Ice Beam / Rain Dance
Moveset
Hydro Pump acts as a go-to on the whole spammable STAB Water-type move, hitting like a wrecking ball given the right circumstances;
Thunder acts as secondary STAB, with its perfect accuracy under Rain, high Base Power, but lacks the added Rain power-boost Hydro Pump provides;
Hurricane, too, has a fantastic accuracy boost, and beats opposing Grass-types. Can also provide para-fusion synergy with Thunder;
Ice Beam is nice for Bolt-Beam synergy, giving near-perfect neutral coverage;

Rain Dance stops Politoed from becoming too vulnerable, letting it quickly return the battlefield to a comfort zone. However, it is only useful as a moveslot should your team lack sufficient Rain support, which many bulky / hyper offense teams do not fulfill.
EV Spread
176 Speed alongside a Timid nature is enough to outspeed the entire OU metagame under Rain, narrowly outspeeding the 150 Speed tier, with its one OU member: Mega Alakazam;

252 Speed—and 252+ Timid Speed only—coincidentally is enough to outspeed Choice Scarfed Tapu Lele, making Politoed harder to pick off by what is many team's fastest Pokémon;
An alternative EV Spread of 88 HP / 252 SpA / 168 Spe with a Modest nature makes Politoed able to outspeed base 130s. This spread is nice for maximising Politoed's strength with such nature, and while it is at the cost of Speed, under Rain it is effectively of a 131 Speed tier regardless; alongside a base 160 Special Attack, this is by all means exceptional;

252 Special Attack EVs ensure Politoed hits as hard as possible;
The remainder of EVs are invested into HP to capitalise on and boost its already-fantastic natural bulk.
---

Bulky
Politoed @ Politoenite
Ability: Drizzle
EVs: 252 HP / 252 SpA / 4 SpD
Modest Nature
IVs: 0 Atk
- Hydro Pump
- Thunder
- Hurricane
- Ice Beam
Moveset
All reasons listed above apply;
As this moveset does not at all care for Swift Swim, Rain Dance is not so good as it is with more Speed-oriented sets. However, it is still a perfectly viable consideration by virtue of its bolstering of Hydro Pump's Base Power, and the accuracy of Thunder and Hurricane. It should only be run if your team lacks Rain support, which using this moveset absolutely entails, making Pelipper a great partner, especially in switching into Ground-type attacks.
EV Spread
252 HP maximises Politoed's bulk;
252+ Special Attack ensures no offensive power is lost.
Team Options
Wish support is nearly a necessity to keep Politoed healthy throughout the match. Considering the volumes of Politoed's HP what with its investment, reliable Wish passers with high HP, like Chansey, in particular, are what springs to mind most.
Sunflora
When you first think of a flower, what first appears in that noggin of yours? Pretty petals? Petite pollen? Prepossessing pea greens? I could go on and on—but does power ever strike the mind? Yeah, no.
And there's a flower Pokémon. Has it those pretty petals? Well, sure, yes. The petite pollen? Uh, I guess. And the power? No, I confess.
Stat
Value
Difference
HP
Before

75

0
After

75

Attack
Before

75

-60
After

15

Defense
Before

55

70
After

125

Special Attack
Before

105

50
After

155

Special Defense
Before

85

50
After

135

Speed
Before

30

-10
After

20

Total

525

Note: All percentages from this table are calculated from 255, Blissey's HP stat, the highest stat in-game so far, and the total is calculated from Mega Rayquaza and the two Mega Mewtwos, both of which have a base stat total of 780.
At a first glance at Politoed, it may seem overpowered. And you're probably right—after all, a 160 base Special Attack, excellent Special bulk, and an unparalleled Speed tier under Rain, it seems like it could hold its own in most matchups and playstyles, including the ever-degrading Stall. Not to mention all it warrants is Rain to be able to perform in its forte, and even the sturdiest of walls struggle to endure its incredible waves of Rain- and STAB-boosted Hydro Pumps. That's right, Chansey, I'm looking at you.
What do you mean, that's impertinent? Nah, because Mega Sunflora's main niche will be its ability to consistently check Mega Politoed—removing its Rain, being able to fire off Modest base 155 Special Attack Giga Drains, and being able to knock the accuracy of its super-effective Hurricane to a measly base 50 accuracy gives it all the tools to be able to remove Politoed from the field. On top of that, as Politoed will most likely usually use Timid, Mega Sunflora hits a stronger Special Attack, as it will almost definitely run Modest—and none of this is even counting its huge bulk and unique dual typing, as well as extra-reliable recovery with Synthesis, which fully restores the user's HP bar under the Sun weather condition upon usage. Although, of course, whilst it might be the closest thing to a check to Mega Politoed, it's like Primal Groudon and Primal Kyogre—they can both consistently remove each other's weather condition and give them a much harder time, Mega Politoed being able to outspeed and Rain Dance, Sunflora being able to switch in with Drought. Polly, albeit being Sunflora's way of ease, is also its biggest nemesis, as variants carrying Rain Dance remove Sunflora's Sun and 2HKO with a high-power Hurricane. On top of this, even Physically Defensive Chansey is merely 3HKO'ed by a Sun-boosted Fire Blast after Stealth Rock damage, and Latios and Latias are all resistant or immune to its common attacks. The latter, in particular, is especially effective at walling it, what with its superior Special Defense over its counterpart meaning it can stomach Fire Blasts with augmented ease. But on the whole, Mega Sunflora is able to OHKO or 2HKO the majority of OU with one move alone, so evidently, it's a powerhouse to behold.
Number 9
Click '[Expand]' for the number 8 pick.
I do not own any of these Pokémon. They all belong to Game Freak of Nintendo.
Number 8
Click '[Expand]' for the number 8 pick.
I do not own any of these Pokémon. They all belong to Game Freak of Nintendo.
To save me the redundancy, I'll just let them share a spot. They'll be rivals in the competitive if this happens, anyway.


Golurk
Golurk here is living proof that, so long as we build whopping huge-spectral-armoured-blue-ghost-robot-things-with-really-cool-yellow-swirls-and-spiky-shoulders-and-fists-bigger-than-jumbo-shrimp, we've still got a long way to go. While nature has concocted the majesty of Pokémon like Suicune and Xerneas, all us mortals could do was create an automaton with bulk rivalling that of the pre-evolved Lickitung and "mach speeds!" of a base 55 Speed stat. Not all is bad for him, at least, for he gets to share his once-patented typing with man's latest invention: Palossand, the frickin' sandcastle Pokemon. Hey, at least his Attack stat ain't too shabby.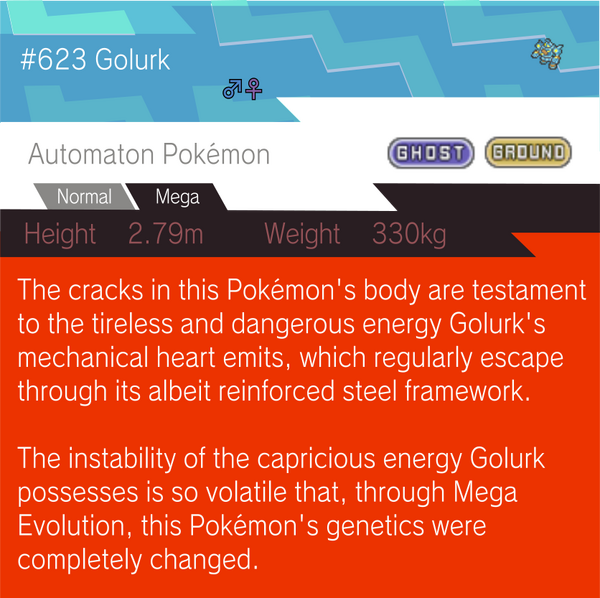 Stat
Value
Difference
HP
Before

89

0
After

89

Attack
Before

124

60
After

184

Defense
Before

80

10
After

90

Special Attack
Before

55

-40
After

15

Special Defense
Before

80

10
After

90

Speed
Before

55

60
After

115

Total

583

Note: All percentages from this table are calculated from 255, Blissey's HP stat, the highest stat in-game so far, and the total is calculated from Mega Rayquaza and the two Mega Mewtwos, both of which have a base stat total of 780.
Stat
Value
Difference
HP
Before

89

0
After

89

Attack
Before

124

-80
After

44

Defense
Before

80

95
After

175

Special Attack
Before

55

-10
After

45

Special Defense
Before

80

95
After

175

Speed
Before

55

0
After

55

Total

583

Note: All percentages from this table are calculated from 255, Blissey's HP stat, the highest stat in-game so far, and the total is calculated from Mega Rayquaza and the two Mega Mewtwos, both of which have a base stat total of 780.
That's right, don't adjust your television set, people, because we have Aegislash's rival right here. Ever got sick of seeing that gosh darn thing? Well, wait until you see this because Mega Golurk's claim to fame is that it is literally broken. I mean, it has the ability to switch between a forme with bulk of 89/175/175 and a forme with an Attack stat of 184 AND STAB Earthquake—heh, suck on that, Aegislash, because Mega Golurk has better offence and bulk. So, who would you pick? (Heh, ignore the typing difference, though.)
Oh yeah, you know how Aegislash has his own signature King's Shield? Well, sod that, because Mega Golurk has Status Hiatus, a 20 Power Normal-type move with +2 Priority that blocks back all Status moves. Notice the 20 Power? Yeah, because it lets him switch between his formes. Heh.
So, as for this God's weaknesses? Well, Golurk kinda has a rough time using his two formes to his advantage. Sure, he's bulkier than Number 4 for Christ's sake, but his support movepool is so lacking that it can only really be used to take a hit once in every while. Due to this, investing in bulk would pretty much be useless, since attacking is still his strong spot. Oh yeah, he has a lack of Ghost-type STAB (Shadow Punch stiiiiings) and reliable recovery, since there's no Leftovers or Recover here. Poor guy. Status Hiatus also makes him switch into his Attack forme first, meaning he has to take a hit in his more frail forme, which is a lot of trouble. Hugely risky, but hugely rewarding, I'd say. Oh yeah, that dual typing leaves him weak to the two most common moves in the VGC, Knock Off and Scald, as well as a plethora of other types, including but not limited to Dark, Ice, and Water. Hey, at least he's immune to Normal, Fighting, and Electric, and resists Bug, Rock, and fourfold Poison.
Dusknoir
Dusknoir, when it first debuted in Generation 4, was your Pokémon reincarnation of a devilish Mohammed Ali—it had the looks, the charms, the power, and the ability to take things from this humble human planet to the depths of Hell. Dusknoir was at the top of its game, looking all hellish in OU with its notorious ability to spread burn as if it were actually dropping things into Hell, spinblocking like it was blocking those non-sinners from entry to Hell, and in general being hellish. I mean, hell, he might as well—or, should I say, HELL—marry Giratina or something, ride around on a Houndoom all night long, and go into a like-long war against Arceus. But hell, did this thing die down fast. I guess it accidentally FELL into Hell! (Yeah, I have no idea where I'm going with this.)
Dusknoir's reign has simply died down, like the weather nerf in Generation 6, or Politoed's Drizzle ability being limited to OU and Uber (see what I did there?). It just seems as if the introduction of the Eviolite nicked all of its credibility, just like he nicked all those souls back in 2007. By Black and White, he dropped to RU, with his own zombified son, Dusclops, relegating him—Dusknoir became the only Pokémon ever to be in a lower tier than its own pre-evolution! Who would've known that Dusknoir, of all soul-takers, would claim such a dubious honour. Unfortunately, this became one of the few things Dusknoir was known for, other than being the most unnecessary evolution in the franchise and being that one 'mon that was in OU that one time. Oh yeah, and having that overpowered Mega Evolution. How hellish.
Stat
Value
Difference
HP
Before

45

60
After

105

Attack
Before

100

40
After

140

Defense
Before

135

40
After

175

Special Attack
Before

65

-55
After

10

Special Defense
Before

135

40
After

175

Speed
Before

45

-25
After

20

Total

625

Note: All percentages from this table are calculated from 255, Blissey's HP stat, the highest stat in-game so far, and the total is calculated from Mega Rayquaza and the two Mega Mewtwos, both of which have a base stat total of 780.
Since Dusknoir is such a wimp and is afraid of the Dark (like, seriously, the man who takes people down to the pits of doom that is Hell is afraid of the frickin' dark? What a wuss, man), let's make him part Dark, let's remove that fear by giving himself, well, that same fear. It's double trouble now, right? After all, Ghost/Dark was once the only dual typing with zero weaknesses, but since the questionable introduction of the Fairy-type, it now has one. One's still nothing for a wall, though. Secondly, Dusknoir's HP stat is lower than a Camerupt whose back can be broken by a Flabébé, or a Shuckle after a Sturdy, or the lord himself, Shedinja—so why not buff it? I mean, heck, Smogon outright states that its otherwise-phat bulk is mitigated by that measly base 45 Hit Point stat. This way, Dusknoir can take hits like a Shuckle with Blissey's blistery health. With great health comes great responsibility, however—Pain Split, Dusknoir's current recovery move, works excellently on Pokémon with health as low as its, but since it's getting bigger, it would wind up being counter-intuitive :(—so let's give him Recover. I mean, Dusknoir is like the security guard of Hell—it's gotta be able to get up and stay alive, right? Right.
Dusknoir's other flaws include a low Speed stat and a lack of STAB, but I can only grant one without breaking the universe as we know it—so let's go with the more demanding of the two, the latter, the lacker ofer STABer. As I've said with Number 8, who was in this same situation, Ghost-type STAB is necessary, so I'll give him the move Shadow Bone, an 80 power Ghost-type move with 100 accuracy and a twenty per cent chance of lowering the opponent's Defense stat by one stage. Ideal for the Devil's henchman, right?
What next? I'm going to give Dusknoir Wakeful. As the literal Devil's advocate has established himself a devout Satanist, he can't sleep on the job, right? Right. Wakeful makes the user wake up immediately after being put to sleep, meaning Dusknoir can abuse the move Rest, allowing it to cheat its way out of burns and give it fantastic longevity, especially alongside a juicy new base 105 HP stat. Now, his Pain Split woes are lost to time as we know it—I guess you could say that it's quite the Will-o-Wisp. And that crazy base 140 Attack stat establishes him as quite the juggernaut—get it? Because his HP stat before Mega Evolution was so low it could be described as nought? Or that he leaves his opponent with nought HP?
There's your cue to leave, cringing in shame.
(Get it? Cue? Because Shadow Bone has 80 Base Power? And a cue is in 8 Ball Pool? DO YOU NOT SEE THE CONNECTION?)
Number 7
Click '[Expand]' for the number 7 pick.
I do not own any of these Pokémon. They all belong to Game Freak of Nintendo.
Whiscash
Whiscash is one of those Water-types people don't seem to remember all that well. Competitively, it is outclassed even in the lowest tiers, and the fishy features the poor guy tries so earnestly to deliver are usually done better by most other Pokémon. In fact, Whiscash is in the lowest tier—PU—and, according to Smogon, it's C rank; for those that know how it feels to get a C on their maths test, it hurts like a linear equation.
Whiscash's few niches include dual Water/Ground typing, which entails only a single weakness: to Grass. Considering Grass is a pretty ass type indeed, any Pokémon with this typing generally exceed—if it's bulky, at least, which I guess Whiscash is? I mean, 110/73/71 bulk isn't too shabby. Eh, I dunno. It also has access to one of the best boosting moves in the game, Dragon Dance, which should make it equally unique and deadly, but Crawdaunt, Feraligatr, and Gyarados exist and its poor base 78 Attack and abysmal 60 Speed don't cut the chase—or, should I say, dance. Even after a use, getting outsped won't be uncommon at all, nor will an appal, nor will not getting OHKOs, nor will not getting the hO's (okay, sorry for that one, I'm desparate as a Mega Evolution for the poor—or, should I say, POUR—guy to slip in a bad pun here somewhere). But it's time for some WHIScash to RAIN today. Wow, I did it again—that's what the beast'll be saying when he sweeps with this Mega Evolution!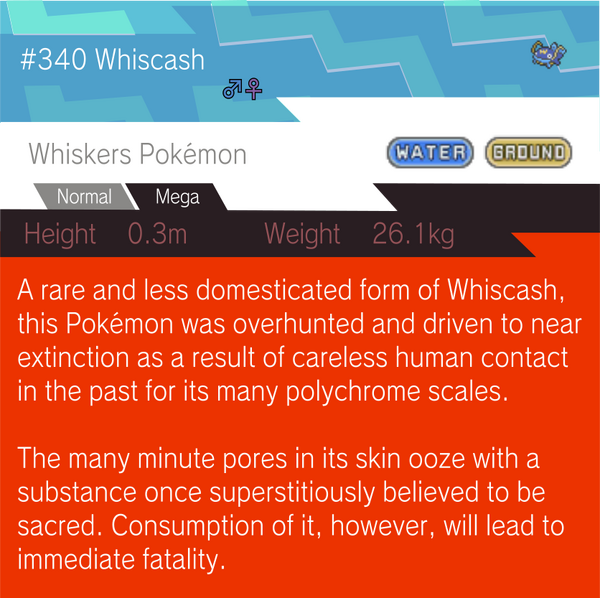 Stat
Value
Difference
HP
Before

110

0
After

110

Attack
Before

78

50
After

128

Defense
Before

73

27
After

100

Special Attack
Before

76

-60
After

16

Special Defense
Before

71

29
After

100

Speed
Before

60

54
After

114

Total

568

Note: All percentages from this table are calculated from 255, Blissey's HP stat, the highest stat in-game so far, and the total is calculated from Mega Rayquaza and the two Mega Mewtwos, both of which have a base stat total of 780.
First off, Whiscash has a lack of power. And people with cash have power, right? So, let's buff that pathetic 78 Attack stat and add a solid 50 to 128, allowing it to threaten everything in the metagame with his money—and, oh, uh, power, yeah, that's it. A STAB Earthquake from that thing is gonna hit like, well, yeah, an Earthquake, gosh darnit. That thing'll destroy Lumiose if you're not careful. All of that just for some exchange of useless Special Attack? Count me in. (Yes, I am aware this nerfs Whiscash's Scald spam, but I'm not going for a defensive approach.)
Since we have 100 base stat increases left, let's just balance him out and give him some solid 100/100 defenses, and a speed stat of 114, enabling it to outspeed threats like the Latinos (geddit?), Keldeo, and various others. After all, the rich man has gotta be able to be fast; if he wants to flaunt his wealth he's gotta do it quickly, you know, he has a busy schedule of bathing in his pools of money, nothin' fancy. Overall, this makes it so much easier for Whiscash to set up, and more worth it to set up. At +1 in Attack and Speed, he's outspeeding everything allowed in the metagame (the fastest being Ninjask) with a Jolly nature and 252 Speed, at a massive 539—don't even get me started on Attack! That hits 593 with Jolly, and a gargantuan 651 with Adamant. What a powerhouse. Speaking of houses, this guy should move into the Empire State Building—as in, the whole of it. He'll Earthquake you if you deny him.
Hey, you know what, we're not even done—what about the ability? Well, I've been wanting to give a Water/Ground type this for a long time, especially a physical one. So ... you know how it has that one weakness, to Grass? Welp, as mediocre as Grass might be, there's still a ton of viable ones scattered around the place, and they completely fart on Whiscash—after all, they have a free resistance to both of its STAB attacks and can respond with a 4x effective Grass move—that's almost the highest you can get in terms of predisposition. So, how about we just stamp a Trubbish on that garbage and give it ...
Sap Sipper?
You know, that'll make it the second Pokémon with no weakness (or fourth ever), and that superb bulk and offense makes this thing one of the best Pokémon to have such a title. Say goodbye to that dopey Whiscash, and spawn the OP. Oh yeah, in order to actually hit Grass-types, however, he'll need some Icicle Crash now that Ice Beam is no longer viable, and possibly Liquidation, though Waterfall will likely be better due to the flinch chance over the Defense drop.
Finally, Whiscash needs to be able to keep himself afloat—should you not opt for the Dragon Dance or the Icicle Crash, we might as well slap some Recover on him, too. Audino, Wynaut. Oh yeah, and some Stealth Rock, to further this possible support set, and for some general utility—after all, Mega Whiscash is bulkier than many defensive Pokémon in OU, like Heatran, though the lack of Leftovers might be problematic. All in all, great Pokémon, and I look forward to see Whiscash get all the money and, most importantly, all of those Milotic babes.
Number 6
Click '[Expand]' for the number 6 pick.
I do not own any of these Pokémon. They all belong to Game Freak of Nintendo.
Under construction
Number 5
Click '[Expand]' for the number 5 pick.
I do not own any of these Pokémon. They all belong to Game Freak of Nintendo.
Spinda
As one of the few innuendos seen to the video game side of the franchise, Spinda continues to be the classic piece of laughing stock he always has been. With a grand smashing sixty in each stat, it's pretty hard to see why Spinda is so terrible, what with those amazing dance moves of his. Clearly Game Freak had a little too much fun with this one.
And so have I.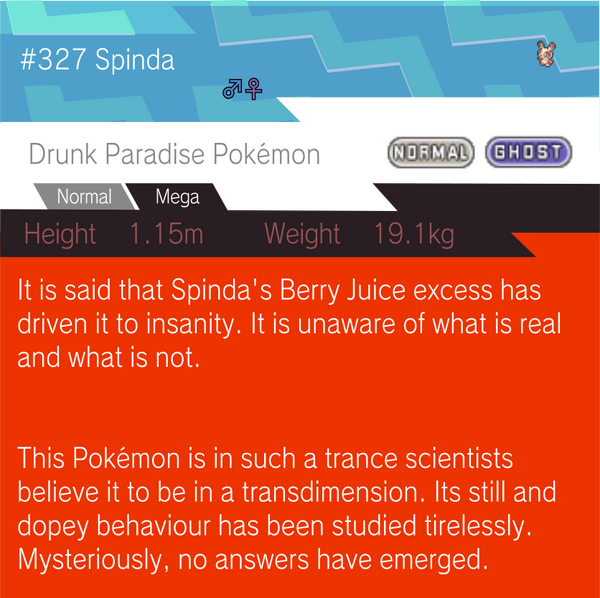 Stat
Value
Difference
HP
Before

60

0
After

60

Attack
Before

60

-59
After

1

Defense
Before

60

81
After

141

Special Attack
Before

60

-59
After

1

Special Defense
Before

60

196 (lol)
After

256

Speed
Before

60

-59
After

1

Total

460

Note: All percentages from this table are calculated from 256, Mega Spinda's Special Defense stat, the highest stat in-game so far, and the total is calculated from Mega Rayquaza and the two Mega Mewtwos, both of which have a base stat total of 780.
Yeah, I wasn't lying. I mean, you've gotta just laugh at how stupid that stat distribution is. Half of your stats are base 1, for one, and then you've got a stat that's the highest in the game. Don't even ask, I was dunrk no thsi oen, 2.
Number 4
Click '[Expand]' for the number 4 pick.
I do not own any of these Pokémon. They all belong to Game Freak of Nintendo.
Corsola
You guys know Toxapex? Who doesn't. It's one of the bulkiest things around and, to make matters worse, it has one of the most annoying support movepools in existence, its own signature spin on Protect, great defensive typing, and Regenerator, enabling it to be one of the best defensive pivots in the game. Toxapex is freaking broken, and for most people, the idea of its mere existence seemed stupid. I mean 152/142 defenses are a lot to boast about, especially along with the ability to hit Fairy-types and resist another seven on top of that.
You guys know Corsola? Me neither. Our poor pinky pal suffers from one of the worst dual typings known to Pokémonkind, average stats across the board, and as much offensive presence as a Ditto with a Disabled Transform. Despite having a movepool as broad as Tsareena's legs, she simply struggles to do much with it at all, and is instead forced to run the boring Toxic/Recover/Scald/SomeOtherMiscellaneousProbsSupportMove moveset that Water-types are so belittlingly known for. But hey, Corsola will always be the best Pokémon because she's the cutest—for a wall, at least. Let's face it: the only reason you're using Corsola is because of the pure novelty of how terrible it is, or for some "Everybody Look at Me I'm Using Corsola".
And why do I mention Toxapex? Because Toxapex is literally Corsola, but better to every degree imaginable. Oh wow! Corsola's got Regenerator! Epic! Well, nope, because Toxapex has it, too. Wow! Access to Stealth Rock! Tough luck, buddy, because Toxapex gets Toxic Spikes. Reliable recovery? You guessed it. Usable defenses? Well, yes, but Toxapex's are among the best in the game. Typing? Yeah ... Toxapex resists eight and Corsola five. And in the real world? Well, neat question, but Toxapex doesn't give a damn—you know, as the Pokédex so gloomily states ...
"Toxapex crawls along the ocean floor on its 12 legs. It leaves a trail of Corsola bits scattered in its wake."
Yeah, Toxapex thinks he's so good that he swaggers along the oceanfloor with twelve legs. Oh yeah ... and the rascals like to kill off our coral companions. What bastards.
CRAAAAAAAAAAAAAAAAAWWWWWWWWWWWWWWWWWLLLLLLLLLLLLLLLIIIIIIIIIIIIINNNNNNNNNNNNNNGGGGGGGGGGGG IIIIINNNNNN MMMMMMMMMYYYYYYYYYY SSSSSSSSKKKKKKKKKIIIIIIIIIIIIINNNNNNNNNNNNNN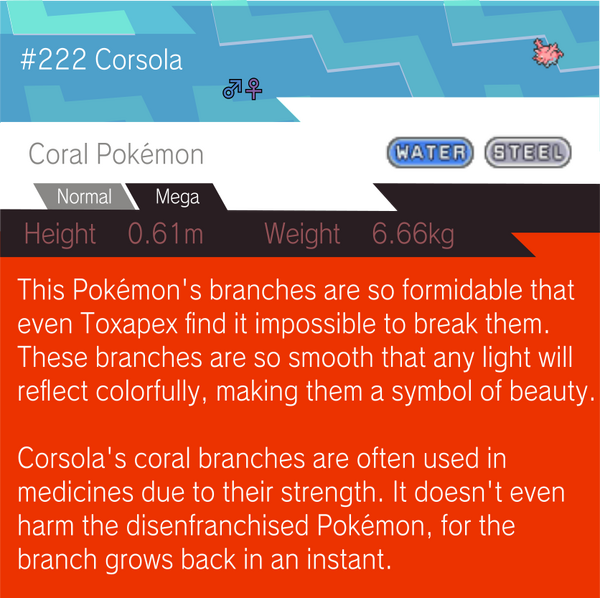 Stat
Value
Difference
HP
Before

65

135
After

200

Attack
Before

55

-50
After

5

Defense
Before

95

5
After

100

Special Attack
Before

65

35
After

100

Special Defense
Before

95

5
After

100

Speed
Before

35

-30
After

5

Total

510

Note: All percentages from this table are calculated from 255, Blissey's HP stat, the highest stat in-game so far, and the total is calculated from Mega Rayquaza and the two Mega Mewtwos, both of which have a base stat total of 780.
Yep, by looking at those insane 200/100/100 defenses, you can already tell this thing is more of a wall than the American-Mexican border—and it's an adorable one at that! In fact, outside of Shuckle, those are the highest combined defenses for any Pokémon (including HP), narrowly beating Lugia and Giratina, and tying with Blissey (though Blissey has a disgraceful Defense stat). Not to mention this Corsola spread has better offenses and hit points than Shuckle—oh Shuckle, what a mess you are. On top of that, it's bulkier than Toxapex in every defensive stat and Special Attack, as well as things like the Ubers-standard Giratina and Lugia. ¯\_(ツ)_/¯ Water/Steel, too, is gonna steel that fame from Toxapex even more, providing ten resistances, two of which quad, and an immunity to the ever-important Poison. Overpowered or what?
Though, of course, Mega Corsola will have some weaknesses, as does every Pokémon in existence. First off, prior to Mega Evolving, the poor guy has a typing that leaves it weak to four types, one of which is quad, and its average bulk makes it difficult to use in OU. Leading, too, will be problematic, what with OU's proverbial Ground-type leads running amok, like frickin' Landorus-T, Hippowdon, Defensive Garchomp, Gliscor, or Excadrill. A weakness to Electric—which is among one of the most common speed control leads in the metagame—makes it susceptible to powerful Electric-types like Tapu Koko and Raikou, and its further two weaknesses, to Fighting and Grass (which is quad), generally leave it susceptible to a ton of other Pokémon, too. To top it all off, this Mega Evolution's weaknesses are carried, the only one of which is Grass which, despite being 4x, is probably the least important in the grand scheme of things. Although it has access to STAB Scald, it's still incredibly passive especially against setup Pokémon such as Raikou as well as Substitute. Generally, Mega Corsola is suited at beating things that can't do any of the aforementioned.
But screw that—with bulk like that, he can take an Earthquake from a defensive Landorus-T, in fact—it has a 10.5% chance to 2HKO with maximum Defense investment. And, even then, Regenerator will let him patch up those bruises! Looks like Corsola's just so fed up with sucking that he gave a personal order to Game Freak to buff him—oh yes, in Gen 6 our fishy fellow had defenses as suckish as 55/85/85, but where is it now? 65/95/95, which is solid—and garnered himself a Mega. Like, dang, that's some power right there.
Do you guys remember Toxapex? Yeah, me neither.
Number 3
Click '[Expand]' for the number 3 pick.
I do not own any of these Pokémon. They all belong to Game Freak of Nintendo.
Butterfree
Ah, Butterfree ... even if you were the starting bug we didn't forget, you're still as irrelevant as the rest of them. Heck, by now, you're pretty much nearing Ledian for usage—I mean, Ledian is used because it's laughably bad, but Butterfree is used because ... eh, nostalgia? Yeah, I don't really know, but either way, Butterfree has a pretty bitter backstory of both sentiments and counterparts once again.
So, here we are, ORAS is about to come out. We've all seen the leaks—who hasn't?—and Beedrill's most definitely getting a facelift, and rightly so. Alright, so, Butterfree ...? Well, technically, eh, nah.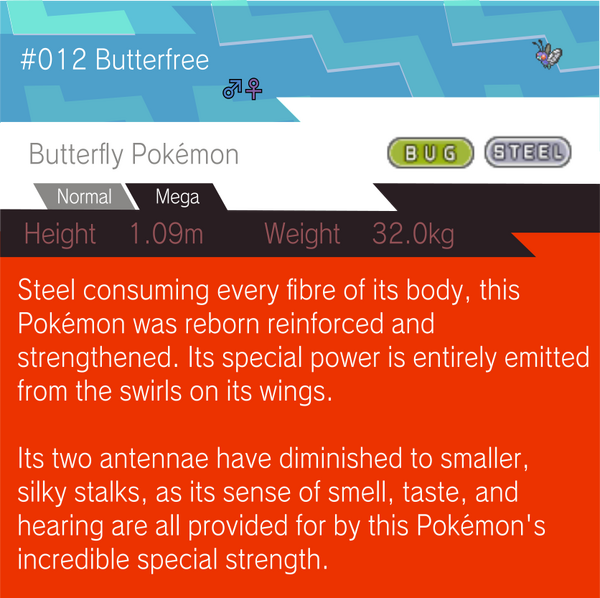 Stat
Value
Difference
HP
Before

60

0
After

60

Attack
Before

45

-31
After

14

Defense
Before

50

65
After

115

Special Attack
Before

90

45
After

135

Special Defense
Before

80

20
After

100

Speed
Before

70

1
After

71

Total

495

Note: All percentages from this table are calculated from 255, Blissey's HP stat, the highest stat in-game so far, and the total is calculated from Mega Rayquaza and the two Mega Mewtwos, both of which have a base stat total of 780.
I mean, it's only just for Butterfree to get a Mega, right? Like, out of the two, I'm sure we remember Butterfree more than Beedrill. But nope, Game Freak went all Bye Bye, Butterfree! on us. Maybe it's a horrendous trump card they're pulling off or something. Speaking of Trump, it's 00:21 right now, which means Trump is going to be President in less than a day from here.
Also speaking of Trump, let's buff Bufferfree into a bigger, newly-improved Hillary (which entails making her slightly less horrendous—heck, it sounds like an insult to most people saying this)—we can fight down the counterpart that beat us to it, despite them being so unpopular.
First off, Butterfree's Bug/Flying typing is as horrendous as Trump's haircut. It needs some more pzazz—and by that I mean dumping it with some typing that is better, 'cos Wynaut: Bug/Steel. That'll give him one weakness, to Fire. Eh, screw Fire. Oh yeah, that Steel will require some Flash Cannon, too.
Considering Beedrill gets Drill Run, why not give Butterfree its effective counterpart, Earth Power? You know, just like Hillary could've gained Earth Power but failed, because ... hey, you know what, just look it up on Yahoo! or something (that's what I did).
Oh yeah, Butterfree's stats are pretty rank, too—it has poor bulk, speed and offense, just like- and unfortunately has a failing trifecta of the three. Its best stat is its base 90 Special Attack, which is average and, for its best stat, pretty awful indeed. So, my proposition is we give Butterfree a drop to its Attack by - 30, matching Beedrill's base 15 Special Attack, and buff each other stat, giving him passable 90/80/80 bulk, which isn't exactly phat, but it's decent for a sweeper. For its Special Attack and Speed however, it can have 120 and 111 (allowing it to outspeed the cramped speed tier of 110), two excellent offensive stats that'll instantly catapult this thing forwards.
Bored yet? Good, because the kicker is just down the line—literally. I'm giving Butterfree Simple. Simply, one of Butterfree's few decent traits is its access to the much-coveted Quiver Dance, arguably the best boosting move in the game. And what does Simple do? It's simple, it buffs stat buffs and de-buffs. So, in a single use of Quiver Dance, you're +2 in Special Attack, Special Defense and Speed, effectively giving you unparalleled base 240 Special Attack, 160 Special Defense, and 220 Speed. Overpowered or what? Not only that, but it lets Butterfree wall a good portion of the offensive spectrum, giving way for some decent cohesion between bulk and pacy offense. Another cool idea I had was to give it Stored Power, too, whose power increases after each stat increase—in fact, its power becomes 160 after a single Quiver Dance. Base 160 Psychic-type move with virtually no flaws? Count me in. So what about Beedrill, then? To that I say ...
You're welcome. P.S. Butterfree was buffed with access to Air Slash earlier in Generation 7, too, which is an excellent bonus![1] </center>
Number 2
Click '[Expand]' for the number 2 pick.
I do not own any of these Pokémon. They all belong to Game Freak of Nintendo.
Farfetch'd
Ah, Farfetch'd ... it's been two decades and, yet, you're still terrible as ever. Even with your own proverbial, signature item, and access to one of the best offensive abilities in the game, Defiant, you're more outclassed than Constrict for Pete's sake, and you're still not saved from the same laughing stock realm as our poor pals Luvdisc and Ledian. In fact, Farfetch'd was buffed in Sun and Moon by a massive twenty-five to its Attack and, yet, you're no better. Like, why on earth would any sane being want to pass down offensive powerhouses like S Rank Dodrio, whose Jump Kick smashes the Rock- and Steel-types most Flying-types would dream of penetrating, or Staraptor, whose ability Reckless boosts the already-overpowered Brave Bird, the strongest Flying-type move in the game? Farfetch'd's name perfectly sums up how bad it is—it's so bad that it's far-fetched.
So, why a Mega Evolution over an evolution exactly? Because my visualisation has to have a nerf, and normal Farfetch'd completely sucks. So, you've gotta use a Normal/Flying type that has a frickin' leek to defend itself before anything cool goes down. So there you go, it's not invincible—well, at least, mostly, since Defiant Farfetch'd discourages the most popular Pokémon (and lead) in OU: Landorus-Therian. Heh, somehow normal Farfetch'd is decent now.
Stat
Value
Difference
HP
Before

52

82
After

134

Attack
Before

90

16
After

106

Defense
Before

55

0
After

55

Special Attack
Before

58

-50
After

8

Special Defense
Before

62

0
After

62

Speed
Before

60

52
After

112

Total

477

Note: All percentages from this table are calculated from 255, Blissey's HP stat, the highest stat in-game so far, and the total is calculated from Mega Rayquaza and the two Mega Mewtwos, both of which have a base stat total of 780.
What, those stats aren't all that great? Well, as shown by previous entrants, abilities can make all the difference, right? Yes. Yes, they darn well can. So—for Farfetch'd's ability? Well, that base 106 Attack was intentional; I'm giving it Huge Power, which doubles your Attack stat! So the 106? Mega Mawile, who has base 105 with such an ability, was our erstwhile highest Attack record-holder ... but screw Mega Mawile. We can all do the math here: 106 x 2 = 212. That's right, this is the day Farfetch'd has 212 base Attack. I'm tearful to the eye already. Please Game Freak, if you're somehow reading this, please make this canon. PLEASE. This'd be far-fetched laughing stock for the GOOD REASONS.
So what else does our comrade bring to the table? Well, Farfetch'd has reasonably solid coverage options in Leaf Blade, Night Slash, Poison Jab, U-turn, and Steel Wing, and Swords Dance allows it to separate itself further from other viable Flying-types, but now, with this new Mega Evolution, there's no room for what were Farfetch'd's best niches: its Stick and Defiant. Oh well, I'm sure an Attack stat bigger than Groudon's butthole is worth such a trade. Oh yeah, STAB priority in Quick Attack allows it to pick off threats that don't resist it, such as Tapu Koko and Tapu Lele. Since this Mega's also pretty tanky, it could run defensive sets with things like Roost and U-turn for recovery and some decent scouting and, considering its Attack is so humongous anyway, with an EV Spread of 252 HP / 4 Atk / 252 Spe it STILL 2HKOs 252 HP / 252 Def Bold Tapu Fini with Brave Bird—and, in response, it merely 3HKOs Farfetch'd with Moonblast (and Nature's Madness always has a diminishing return). What a powerhouse! And you wanna know something else? IT FRICKING 2HKOs CHANSEY WITH BRAVE BIRD AND RETURN! Hey, at least our good friend Number 4 still walls it.
So for its counters? Literally the only one of Farfetch'd's viable moves that Skarmory—along with pretty much any other Steel-type—doesn't resist is Night Slash, which is hardly going to hit for anything, to be brutally honest. Thus, Mega Evolution could be a pain, and it'll require an offensive synergy with Magnezone or something in order to kill the Steel-types Farfetch'd doesn't appreciate. But offensive synergies are the key to life, my friends.
Honourable mentions
Click '[Expand]' for the honourable mentions.
I do not own any of these Pokémon. They all belong to Game Freak of Nintendo.
Flygon & Luxray — Flygon in itself is one of the best Pokémon in its tier and is on every Mega list. Luxray, while tried and true, unfortunately doesn't have the former but the latter is all the same. Plus, what can I do that others haven't yet? Electric/Dark, Guts, Strong Jaw, we've seen it all.
Ledian — also something I can't make both particularly viable and unique at the same time. If I was to have a unique spin on Ledian, it'd simply put be hot garbage. Sorry. Bug/Fighting with Iron Fist/Huge Power is, well, a Huge Commodity.
Wailord — my list has enough Water-types ;-;, and surely Wailord, the biggest Pokémon in the universe, deserves to be known for more than being able to have sex with a tiny cat?
Pretty much any other bad Water-type — period. That includes Dewgong, Lumineon, Floatzel, Octillery, bla bla bla ...
Mothim — Butterfree is justified because of Mega Beedrill. Despite having a better counterpart, too, Mothim's analogue, the Wormadam line, isn't viable at all, either, so there's still reason to pick it over Wormadam if for whatever reason you want to use a Burmy.
Ideas
Octillery — stats of 75/15/155/165/155/15, Regenerator for its ability, a pure Water-type. Pretty much the definition of a "tank" if you ask me — it's slow but incredibly resilient and powerful. Trick Room potential's there, too. Regenerator lets it wallbreak and regain health upon switching, keeping it alive, but that's its only reliable recovery: there's no Recover here, unfortunately.
Delcatty — stats of 70/95/100/15/130/90, Fur Coat for its ability, a pure Fairy-type. It's still relatively mediocre as it's pretty rank prior to Mega Evolution, especially with that Normal typing. The Mega makes it a mixed wall, taking advantage of its large support movepool.
Xatu — stats of 65/15/120/125/120/125, Magic Bounce for its ability, Psychic/Flying typing. Makes it fast, bulky and powerful, AND able to block all status coming its way. Also nerfs the Knock Off damage it takes due to Mega Stones not giving it that all-important 1.5× boost. It's still weak to Stealth Rock and a plethora of other types, though.
Chimecho — stats of 75/10/160/140/165/5, Overseer for its ability, which spawns Trick Room upon it switching in, Psychic/Fairy typing. This will give it an excellent niche in a signature ability which complements its support movepool that contains Wish, Heal Bell, Recover, Hypnosis, Cosmic Power, Trick Room, Yawn, and Disable, providing it with the ability to give foundation to slower attackers that require support and slower sleepers. Of course, setting up Trick Room can be a double-edged sword, limiting it to slower teams, and its support might cost the speed of your Tapu Koko, for example. The popularity of Trick Room in VGC 2017, too, will make this thing all the more excelling in the official format (should Megas be allowed again, of course >________>), and the pre-Mega ability of Levitate allows it to switch into a number of attacks.
Noctowl — stats of 100/10/145/86/150/71, Magic Guard for its ability, gains access to Calm Mind, Dark/Flying typing. Its ability allows it to switch into Stealth Rock safely and remove it with Defog as well as removing its HP loss from Toxic, Will-o-Wisp, Leech Seed, etc. and Calm Mind lets it become a bulky set-up sweeper, and that addition of Dark allows it to effectively pivot into Knock Off.
Dewgong — stats of 90/70/130/70/145/70, Unaware for its ability. This means it can reliably switch into most set-up sweepers with relative ease, as its ability ignores these stat buffs. And that's right, your eyes don't deceive—for once on this list I haven't lowered a Pokémon's Attack or Special Attack stat. xD 70/70 offenses, while mediocre, lets it take advantage of useful moves like Fake Out and Scald without them losing their power.
Chatot — stats of 76/65/45/142/46/137, Adaptability for its ability. This lets it wallbreak on a whole new level with Boomburst, and this stat spread outclasses its Choice Scarf and Choice Specs sets with its power and solid speed tier. Its Attack stat remains at 65 so that Chatot's U-turn can still hit for a decent amount of damage. However, it's still a glass cannon and cannot switch into very many attacks at all, making it hard for it to do its job properly.
Vespiquen — stats of 70/100/142/100/142/20, Heatproof for its ability, Bug/Steel typing. With great offensive and defensive stats, reliable recovery, solid typing, this thing looks like it could fit nicely in RU/UU. Why not any higher? Well, Vespiquen has a horrifically small movepool that hurts its viability, and its niche in Tailwind is lessened by this Mega. Simple could be another good option for Defend Order, but I want to save myself the redundancy. Heatproof halves its Fire weakness, giving it much-loved defensive utility, which beforehand was rendered impossible, what with its horrible typing.
Dunsparce — stats of 100/140/110/15/105/45, Serene Grace for its ability, Dragon/Normal typing. As one of the original ParaFlinchers, it seems only fitting to pay tribute to what was Dunsparce's original secured niche through a nice little Mega Evolution. 140 Attack stands out the most, hitting harder than the likes of classic juggernauts like Dragonite and Mega Charizard X, and Glare + Headbutt seems like it could could be annoying as hell. As paralysis cripples attackers by lowering their Speed, its minute Speed stat is passable, and that new-found bulk is excellent. There's TR potential there for Dragon Rush + Coil, too, which seems like it could become incredibly threatening under said condition. As Dragon Rush is its only reliable Dragon-type STAB, however, it will quickly become reliant on Coil's Accuracy boost or, in lieu, just drop the move altogether. In addition, Headbutt still gains STAB and has a higher chance of flinch. I foresee 252 Atk / 252 SpD variants being used for Coil, because Dunsparce's HP is already so high it hardly warrants investment, and max Special Defense with Coil makes this thing incredibly bulky, with the moves of Coil, Dragon Rush / Headbutt, Headbutt / Glare, and Roost. 252 HP / split defenses could be useful for SR leads, which would carry Stealth Rock, Headbutt / Dragon Rush, Glare, and Roost. It's nice to note that Dragon/Normal gives Dunsparce near-perfect neutral coverage, and it already has Earthquake to deal with Steel-types. Skarmory looks like a problem, however.

Alternatively, due to Dunsparce's outstanding special movepool, it could run 100/15/105/140/110/45, Serene Grace for its ability, a pure Flying-type. As a threatening special sweeper, capitalising on its niche selection of Ice Beam, Thunderbolt, Solar Beam, Shadow Ball, and Flamethrower, I could easily see this thing in OU. Serene Grace allows it to actually make use of said moves's additional effects, giving moves like Flamethrower, Ice Beam, and Thunderbolt 20% chances for their additional effects—a 20% freeze hax? Danggg—and Shadow Ball a 40% chance, as well as Air Slash—which, should it be used this way, will become its flagship move—gaining a stupendous 60% chance of flinch, matching Headbutt. Obviously, both variants aren't too broken, what with their below-average Speed stats making flinching difficult unless under Tailwind/Trick Room or against a paralysed/otherwise slower foe. The former, however, would allow Dunsparce to use Coil to its full advantage (which, in turn, grants it access to a much more accurate—and useful—Dragon Rush). Calm Mind is still an option, though, and perhaps even Agility. Maybe it could pull a Charizard/Mewtwo and end up with two Megas—count me signed up if so! Sheer Force is another nice option over Serene Grace, but Serene Grace is used as a homage to the old days and makes this thing annoying with Air Slash.

Lumineon — stats of 69/19/126/99/136/111 with the ability Epicarice. What this ability does is make the user recover 50% of its maximum HP whenever a Pokémon on the opposing field has its stats lowered, either by the user or its allies. What's cool about this ability is that Defog, one of Lumineon's flagship moves, is furthered in its viability by giving Lumineon reliable recovery, something it game-changingly lacked beforehand. With great bulk and speed and decent offense, this thing looks like it could be a solid Defogger in UU and, perhaps, the reaches of OU. Obviously, it has a painful lack of support moves by comparison to other Defogging Water-types like Empoleon, a boring pure Water typing, and is easily shut down by Defiant and Competitive. A simple set would probably be 252 HP / 252 Def / 4 SpA or the like, with Scald, Defog, Toxic, and Ice Beam / U-turn.
Aurorus — stats of 123/5/105/161/105/122, Ice/Steel typing, with the ability Geologist. Geologist is your Rock-type Steelworker; it doubles the power of all Rock-type moves. As Ice/Rock is one of the best offensive types (albeit one of the worst defensive types) and it'd be a shame to let part of its niche go, so instead it makes its Rock-type moves even stronger than they were before—in fact, the best special Rock-type move Aurorus gets is Ancient Power, so a power boost that makes it stronger than it was even when it had STAB is nice—120 power is not at all a pushover of a stat. With its great 123/105/105 bulk and newly-added Steel typing, this thing can actually switch into something now. Like, even with defensive investment, its typing simply stopped it from having any defensive merit on a team slot, not to mention the lack of recovery. It's much more powerful and faster than it was prior, too, and the pre-Mega ability of Snow Warning lets this thing spam 100% accurate Blizzards all day every day. So, Ubers anyone (and yes, I'm aware of Primal Groudon and such, but this thing is Ubers-standard at a first glance)? And yes, I am aware this thing isn't even too bad in the competitive as it stands—in fact, I personally am making great use of this thing in RU—but I had a cool idea for it, god damnit.
Sawsbuck — stats of 80/190/70/10/100/125, with the ability Reckless. Before I say anything, this thing SCREAMS Bulk Up, Earthquake and Wood Hammer—the former patches up its mediocre defense stat and boosts its already-tremendous Attack stat, think stallbreaking Gogoat (in fact, by base stat, this thing TIES for the highest Attack in the game—though, of course, Huge Power users slightly cheat this), Earthquake gives it near-impeccable coverage that lets it cheat many of its weaknesses, and the latter is an incredibly powerful physical Grass-type attack boosted by Reckless. Wood Hammer would only add to their decent bank of Double-Edge, Wild Charge, and Jump Kick recoil moves. I could easily foresee 252 HP / 252+ Spe / 4 Def with Bulk Up, Substitute, Horn Leech / Wood Hammer, and Double-Edge / Synthesis for bulkier variants and 252 Attack / 252+ Spe / 4 SpD with Wood Hammer / Horn Leech, Double-Edge, Jump Kick, and Earthquake / Wild Charge / Synthesis for more offensively-inclined variants. The defensive variant is like a mirror Sub BU Braviary, obviously due to the powerful recoil attack, recovery, Substitute, and Bulk Up, which is one of my personal favourites. So, why Sawsbuck? Well, being overshadowed by one of the worst Eeveelutions is already bad enough, with Leafeon being often the more favourable option by virtue of its superior Defense, Attack, and paralleling Speed tier. In addition, with the removal of seasons in Generation 6, the main thing that was so cool about Sawsbuck disappeared entirely, which sucks, as this thing becomes incredibly overshadowed without that cool whigmaleerie. This thing is easily OU and, perhaps, even Uber — it's a spitting image of Mega Mewtwo Y, after all, with a horrible Defense stat but solid Special Defense, Speed, and offense.
Bellossom — stats of 75/5/120/175/80/135, Simple for its ability, Fire/Grass typing. Before I say anything, Bellossom NEEDS Fiery Dance and Earth Power. With the recent addition of the coveted Quiver Dance, Bellossom's movepool isn't so small as herself anymore - but it could still use some Fire STAB and some Ground coverage, letting it beat two of its three weaknesses: Flying, Poison, and Rock. With Moonblast already in its arsenal, Bellossom can take care of Dragons, too, and its access to Synthesis and Sleep Powder gives this thing some nice versatility. But I'm not done yet - with Simple, just like Mega Butterfree, this thing's Quiver Dance boosts its already-insane Special Attack, Special Defense and Speed stats to incredible levels—in fact, the only stat that isn't boosted is Defense, which already sits at a massive base 120. Solid or what? Also, note that Bellossom loses Special Defense, because it needed some weakness, right? Plus, Quiver Dance patches that up real nice. OP as hell. This thing is definitely Ubers, as it cheats Primal Groudon with its great mixed bulk after a Quiver Dance, but with that tier's excess of Dragon-types, four moveslot syndrome will sting—after all, Earth Power is nice for Primal Groudon and for the neutral and mixed coverage, then Synthesis lets it recover and exploit the extremely harsh sunlight, Sleep Powder lets it sleep things and get a guaranteed Quiver Dance, but then Moonblast is the only thing it has to hit Dragon-types—predicament much? The tier's walls are also very much so hostile to it, as Lugia quite easily walls it and can force it out with Whirlwind.
Audino — and I mean an ACTUAL Mega. Stats of 103/10/136/140/136/20, PURE-Fairy typing, and REGENERATOR for its ability. Okay? Don't give it that WASTE of a Normal-typing, a RETARDED ability in Healer, and a base 80 Special Attack. Like, seriously? You built this thing for VGC and then straight up ban it—oh yeah, like anyone used it in the first place. I'm sorry, I love Audino, it's just such a same they screwed it up so badly. Like, it had zero offensive power, a mediocre defensive typing, and not to mention the pathetic ability. So my alternative gives it better bulk, offense, typing, AND ability, in exchange for Attack and Speed—like, did we even need them that much in the first place? Ugh ... but I will give them one thing—Mega Audino looks soooooo nice. Like, I would marry that thing—on LOOKS.
Smeargle — okay, this is fun: stats of 7/188/4/1/4/146, Normal/Ghost typing. Yes, that will make it the frailest thing (bar Shedinja) in history. But, equally, that will make it one of the strongest Pokémon alive—in fact, we might even be talking THE STRONGEST Pokémon in existence—because I'm giving it the ability Replicate. This ability lets you copy the ability of ANY Pokémon (bar Shedinja), so you can make this thing as flexible as humanly possible. Huge Power? Yeah, sure, that'll be a lovely base 376 Attack, nothing fancy. Sure, it can't take a hit for its life, but that typing guarantees it three immunities, letting it safely switch into at least three types—you could make it Ground-immune with Levitate, too, who knows? The possibilities are endless. Just don't use Fur Coat. Please, just, don't.

It could also run stats of 55/100/45/5/100/45, with said typing and Replicate ability. This one actually could use Fur Coat, and use it well—after all, having decent mixed bulk allows it to get off a Belly Drum quite nicely. Obviously, that huge Speed nerf is unkind to Smeargle, and hurts it so.

Parasect — stats of 100/95/155/10/145/10, Bug/Steel typing, Prankster for its ability. First and foremost, with Bug/Steel's only weakness being Fire, how about I give it a sneaky little addition to Parasect's movepool to annoy the darned things? Okay, so, I doubt you've heard of it, but ... I'll give you a hint: it's Vivillon's signature move. What, it's Powder, of course! So, what Powder does is make the user immune to Fire-type attacks for the turn and give the opponent some chip damage. Neat move, huh? It's forgotten simply because it was underutilised on Vivillion, since it had better moves to use, but Parasect can spam it all day, free of charge. So, Parasect's main niche in the competitive is its access to Spore, as well as—okay, actually, it's quite literally just Spore—well, and reliable recovery, but that's unique how? But that's enough to work with. With the gift of Prankster, this thing has +1 priority Spore, letting it stop most sweepers before anything too dastardly unfolds, and the lack of Fire-type priority means, even after a boost or two, priority-oriented sweepers still struggle to break through. +1 Synthesis allows it to recover itself up very quickly and efficiently, so if it's in a pinch it can easily heal and remain healthy. In addition, while it might seem like a rather mediocre choice for Sun, what with the lack of the Grass-typing to benefit, large weakness to Fire already, et cetera cetera, in actuality it can still spam Powder until it ends, and having +1 priority Synthesis literally means it regains 100% health when under the condition. Plus, it will still most likely succumb to any Fire-type attack coming its way, regardless of whether or not Sun is up. Parasect has such a huge movepool that benefits from Prankster that this thing's versatility is through the roof—there're soooo many options, like +1 Aromatherapy and Synthesis to beat Stall teams, +1 Spore and Stun Spore to stop sweepers, as well as Leech Life to drain HP and take advantage of that nice Attack stat. This is what we call overpowered. Like, even Dark-types that try to switch into this thing's moves because of Prankster have diminished power with Knock Off because of the Mega Stone, and have to face Leech Life. They are immune to Powder, though, so a surprise Fire-type move can maim this thing.
Emolga — stats of 105/15/101/103/101/103, Electric/Steel typing, Levitate for its ability. With the best dual typing in the game, an added immunity to Earthquake, great mixed bulk, Speed, and Special Attack, Mega Emolga looks like a fantastic balanced wall/attacker. With reliable recovery and a great support movepool at its disposal, this thing could easily function in UU and, perhaps, OU. Taunt/Volt Switch, Thunderbolt, Encore/Nuzzle, and Roost for days.
Luvdisc — stats of 168/5/71/100/81/5, Water/Steel typing, Shed Skin for its ability. With this ability, Luvdisc scores reliable recovery with Rest, as the ability takes care of the sleep this ability brings on. In addition, with a humongous base 168 HP, and 71/81 defenses, this thing becomes the Alomomola it so heartily wanted to be. Pun intended. Oh yeah, not to mention that solid Special Attack buff. However, a massive nerf to its Speed means this thing speed ties Shuckle, which isn't particularly nice and, outside of its bulk, typing, and ability, Luvdisc offers little niches by comparison to other bulky Water types like Blastoise and Alomomola, neither of which take up a Mega slot, the former of which having access to Rapid Spin and Z-Refresh, the latter having Wish and superior physical bulk.
Watchog — stats of 60/133/95/10/95/127, Sheer Force for its ability. With that insanely large physical movepool at its disposal on top of an ability that boosts the power of any move with an additional effect by 30% (but removes said additional effect), 133 Attack (making this as powerful as Dragonite), decent bulk, Hypnosis, and an exceptional Speed tier, Mega Watchog has the potential to become a solid threat in a tier as high as UU. The movepool it has means its versatility is unparalleled, and can run anything to catch its checks off-guard. It's your physical Nidoking. Of course, it's still pretty frail and fails to gain STAB on the vast majority of its attacks and, since it lacks the ability to carry a boosting item, it isn't as strong as that stat might seem to lead on.

Alternatively, Watchog could run 60/10/95/133/95/127 with No Guard and Normal/Fighting typing to exploit its decent special movepool, too, as well as make Hypnosis, Thunder, and Focus Blast more reliable. It has Nasty Plot to somewhat remedy its underwhelming Special Attack stat (note the lack of damage-enhancing item - no Sheer Force, either).

Dedenne &mdashs; stats of 67/8/97/131/97/131 with the ability Leechlike. What this ability does is double the power of all draining moves and increase the amount they drain by 25%—with this ability, Dedenne should gain access to Draining Kiss and Giga Drain, both of which appreciate the power and draining boost. So, you ever heard of the move Parabolic Charge? Well, it's a 65 power Electric-type move that recovers half the damage dealt. But with this ability, it is boosted to 130 power, and recovers 75% of the damage dealt—not even factoring in STAB! Draining Kiss reaches 150 power with STAB (and so does Giga Drain) and, because by default it drains 75% of the damage dealt, all of the damage that it scores goes directly to the user. As Dedenne's HP stat is relatively mediocre, it completely abuses these moves, not to mention the decent Special Attack stat it has by default. I would love to use this thing, I'm telling you. Easy OU potential.
Swalot — stats of 100/103/123/103/123/15, Poison/Electric typing, with the ability Levitate. Great bulk and decent offensive stats, along with only one single weakness, give Swalot a decent niche, not to mention its decent coverage. Thunderbolt will be necessary, and its decent mixed coverage give it the ability to hit many types super-effectively; Ice Beam, Earthquake, Thunderbolt, and Gunk Shot, in themselves, let this thing hit twelve of the eighteen types for 2x damage. That's solid. Obviously, 103 in each offensive stat is mediocre at best, and its lack of reliable recovery hurt it to a great extent. Thus, Swalot needs proper team support to function in its highest extent. That said, it is already a threat in itself.
Arbok — stats of 60/144/69/15/129/131, Poison/Dark typing, with the ability Hustle. Everything here capitalises wholly on Arbok's proverbial Coil, which boosts its Attack, Accuracy, and Defense stats by one stage. Hustle's main drawback, having lowering the user's accuracy in exchange for more offensive power, is fixed up by Coil's Accuracy boosy, and Arbok's horrible physical Defense is fixed up by both a pre-Mega Intimidate and, on a larger scale, Coil's physical Defense boost. It has excellent Special Defense and Speed stats from the get-go, meaning the two stats that Arbok makes use of that do not receive such a boost still are not vulnerable. However, Arbok has a horrible HP stat which, uninvested, hits a painful 230, meaning it'll probably require 252 HP investment alongside max Speed, which means it can't access its huge Attacking power immediately, even with Hustle. Its over-reliance on Coil to stop Hustle from making it struggle to pull off a hit means it requires switches or rare set-up opportunities to prevent it from becoming easily-exploitable. However, it still has the game's strongest Sucker Punch and Crunch attacks, only a single weakness (and said weakness can be patched up by Aqua Tail coverage), and excellent mixed bulk after an Intimidate, meaning it has actual defensive utility and allowing it to fit on balanced teams rather than hyper-offensive, which its Attack and Speed stats alongside its juggernaut of an Ability may attempt to deceive. The battlefield instantly becomes a snake pit with this thing's ominously dawning presence.
Shuckle — stats of 20/197/20/197/20/151, Bug/Ground typing, with the the ability Star-Shuck (pun on star-struck). With the highest Attack and Special Attack stats in the game, the fourth highest Speed stat in the game, as well as a solid offensive typing granting it STAB Earthquake, Shuckle is quite the juggernaut to behold. And as for the ability? Well, you'll be aweshuck: Star-Shuck makes all moves of 60 Base Power and below hit twice. And as for moves that already hit more than once, like Rock Blast? Well, each hit hits twice, if that makes sense. So, instead of hitting 2 times you'd hit 4 times, instead of hitting 3 you'd hit 6, and instead of hitting 5 you'd hit 10, etc. ... which capitalises on its decent array of low-power attacks—after all, Shuckle's offensive movepool is as about as vibrant as matte. Additionally, Shuckle now needs access to both Bonemerang and Frost Breath, both being exploited by Star-Shuck, as Bonemerang now hits 4 times, effectively giving it base 200 power (or 300 with STAB) on top of a crit rate multiplied by 4, and Frost Breath crits 100% of the time, meaning it effectively hits for 90 power, and considering it hits twice you have a 180 Base Power Ice-type move. With its access to Shell Smash, upon forced switches it can double all three of its sky-high stats in Attack, Special Attack, and Speed, in exchange for some non-existent bulk, or in certain stall matchups. But funnily enough, its HP is so low that it's 2HKOed by Chansey's Seismic Toss. Not to mention there are very few things that don't OHKO it—it's frailer than both Pheromosa and Deoxys-Attack, after all. It's still an easy Uber, considering how powerful both Pheromosa and Deoxys-Attack are, despite their frailty and, what with Shuckle being even stronger, I have doubts about this staying in OU for very long.
Klinklang — stats of 190/160/85/10/85/90, Electric/Steel typing, with the ability Refrigerate, gaining access to Volt Tackle and Earthquake. What this will do is solve its problem of a horrific and barring movepool, providing it with equilibrium with bulk and power, and allowing it to carve a niche from the two thieves that stole its signature Gear Grind: Genesect and Magearna. Firstly, Refrigerate—while random as hell—gives Klinklang impeccable neutral Ice + Electric coverage, without forcing it to become part Ice-type. Earthquake, alongside this, provides additional coverage, hitting things super-effectively as opposed to just neutrally. As Steel is such a horrible offensive typing, access to these pretty much offsets Gear Grind now, too; while this was such a great move, it was held back by its accuracy and typing, one signature move (or, now, I suppose, none), is just enough, thanks; and even though it provided great STAB, again, its coverage moves simply do what it does better. Add this to its newly-grounded access to Volt Tackle, letting it both steal a signature move from the most annoying Pokémon line out there, and have a spammable STAB move to make use of—and while its recoil might be an issue, a new and incredible base 190 HP stat completely ignores this. Its Speed tier remains at 90 as there is no need for it to be any higher, due to Shift Gear.
Number 1
Click '[Expand]' for the number 1 pick.
I do not own any of these Pokémon. They all belong to Game Freak of Nintendo.
Arceus
Now I know what you're thinking: Arceus? What. The. Frick. Yeahhh ... *guiltily smiles in self-irony*
Of course, granted, Arceus is the strongest NON-Mega, so why make it even more powerful? After all, it's sitting up there in Heaven as well as the Uber tier, what more could you ask for? Well, it's simple: God is this omnibenevolent, omniscient and omnipotent being, right? He has the power of immortality, to watch over us mortal beings, right? Well, that said, he's gotta be the strongest thing out there. Sod Mega Rayquaza and the Mega Mewtwos, God has come down from Heaven to punish all the sinners—"dare not incur his divine wrath", Smogon once wisely said, but now it's even more than divine wrath we're dealing with here. I mean, come on, it's God, you can't have a bleeding dragon or a freaking man-made machine up there! Arceus created you—but little did those foul beings know what He had in store for them.
Okay, if I'm honest, Arceus doesn't really need anything more than what it already has. A solid global stat of 120 makes for a total of 720 which, after further Mega augmentation, reaches a stupendous 820—and any 6 year-old in the world can control him as they please. Literally the only reason for this Mega is to make it the strongest thing in Pokémon again, to restore God to his former glory. Screw you Game Freak, Arceus created you! >:( How dare you betray him, sinners! (Oh yeah, also, Arceus is going to have to toughen Himself out, because it looks like Number 6 might give him a little competition. One of these days Giratina and his hellish co. will come to Heaven and rule the world, I think Arceus is going to have to be a little tougher than that.)
Oh yeah, just so these Plate items don't get laid to waste, Arceus can lay the table—let's give him those knives and forks and let's take a Mega Rayquaza approach (screw you, by the way, Rayquaza!), as in let's let him hold whatever item he wants. You know, just to give AG its second member. Oh yeah, Mega Arceus looks pretty cool, too.
References